NewLine Services is a Multilingual Contact Center operating in Outsourcing and targeted to the Italian, European and international markets. All personnel that collaborate with us at the Multilingual Call Center, besides their high and professional training related to our activities, possess perfect linguistic skills which involves both good language knowledge and perfect pronunciation of Italian, English, French, German, Spanish and other main European languages.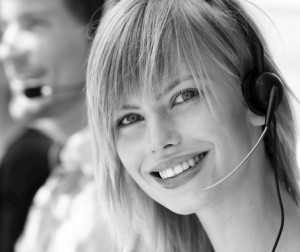 The distinguishing characteristics of our Multilingual Call Center operators, apart from their high standard of quality and professionalism as a result of constant training, are their cordiality and courtesy; even more, they are always willing to deal with any task required. These are the basic elements related to commercial activity or clients' approaches.
As NewLine Services SRL manages your customers' relations, its aim is to create the best image of your company in the market. Our goal is to make our client or potential customer fully satisfied with our services. That is why we guarantee to focus all our attention in solving the specific problems related to your business activities, providing the necessary telephony support.
If you confide in our Multilingual Call Center you will notice that you'll get as good results as if you were executing these tasks on your own plus the advantage of considerably minimizing economic and management costs and ensuring to receive high quality service that will meet your expectations. All of these at the best prices in the market.
NewLine Services Multilingual Call Center uses the most advanced technology for direct marketing useful for the on-going customers' management as well as for the searching of new potential customers. We guarantee special attention and supply of adequate technology for any kind of request, preparing a standard package of services developed and customized according to our clients' requests. We offer different approaches to our customers via telephone, e-mail or SMS, as well as the usage of automatic systems such as IVR, advanced auto-reply and automatic call forwarding. Our technologies are equipped with the systems of calls management (Automatic Call Distribution – ACD) which enable to transfer the calls to a number of operators or to the automated response system (Interactive Voice Response –IVR).  Another of our important instruments is the Customer Relation Management (CRM) which handles the outbound calls ensuring the success of company's strategies. Our clients may get online access remotely to real-time data through a platform that enables to monitor the activities carried out in our offices in a simple and intuitive ways.
Contact us for a free preliminary no obligation quote; we would be happy to evaluate together with you our possible contribution to your particular demands and to co-ordinate the required steps to be followed in order to achieve them.
CONTACT US FOR A FREE PRELIMINARY NO OBLIGATION QUOTE
ТЕL. +373-695.10.436 -  EMAIL: info-nls@newlineservices.eu